With warmer days finally around the corner, tube skirts are re-immerging in our dressings! short or long, solid or printed, they are a good timeless basic that goes with everything. But here's the thing: what do you wear with such a skirt? Don't go anywhere, we've got all the tips and tricks you need.
When you think Spring what do you think? Skiiiirts! Well, at least bare-legged skirts, because of course you can wear all your skirts with tights the rest of the year right. This season, we can't wait to pop out our tube skirts!
Solid, printed, short, long… The tube skirt is a good basic that goes with everything and adapts to all silhouettes: Round thighs, short legs, thin legs, long legs… Everyone can find their tube skirt, as long as they know how to wear it!
To wear the tube skirt like a queen this spring and summer, we have a few outfit examples for you…
With trainers
We know trainers and skirts work well together, we're not teaching you anything here! If you are a big trainers fan and can't go without your Stan Smith or Converse, no worries! As long as the trainers aren't too big (XXL Air Max + skirt = huge feet), nor too high rising (it can flatten your silhouette), you've got it all right!
With heels
For those who want to lengthen the leg a bit, now's the moment to pop our your favourite pumps, your heeled sandals, your T-straps and your summer ankle boots (with open toes). With heels, we'd recommend choosing a mid-length tube skirt, that hits just above the knee (under, it shortens, so be careful) or mid-thigh if the weather allows. Pretty sweet right? There's an outfit that smells like Spring!
With ankle boots
Spring is here indeed, but you're never really safe from rain and/or wind! For those less pleasurable days, you can also count on your favourite ankle boots worn with a pair of light tights. To forget the nasty weather, choose a funky model: golden, with glitter, prints, open… Nothing better to brighten the day!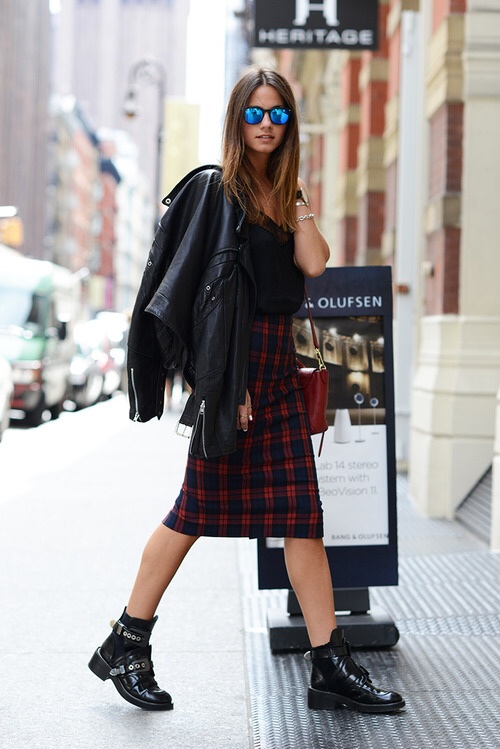 With ballet pumps
Finally when the sun shows its face, you can get your nicest ballet pumps out. Pointed, solid, with laces, with flowers… To avoid the strict secretary look, don't hesitate to go wild on your shoes! With pastel styles, studded ones or ones with leather or silk ribbons, all you have to do is choose!